Boiler Auxiliary Exhaust-heat Collector
(Oil-saving fan heater)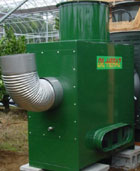 Boiler auxiliary exhaust-heat collector (oil-saving fan heater) is used for heat recovering from exhaust gas, then the clean warm air given back to the ducts.
Usually fit Model 500 and 600 boilers.
Energy-saving effect
Recover 60 to 70% heat energy from exhaust gas.
Produce 40¡æ warm air.
Energy-saving effect is dependent on the temperature of boiler exhaust air and vinyl resin piping. Reduce 15 to 20% heavy oil consumption.
Durable
Consist of steel casing, heat exchanging element and fan.
Only fan requires the power supply. Therefore reduce failure possibility and increase the duration.
Heat exchanging elements which directly contact the exhaust gas can be replaced.
So it can be continuously used for long term.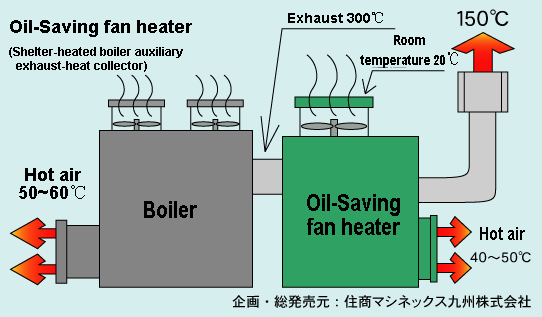 Structure
Main unit size
490mm (W)¡Á 900mm (H) ¡Á960mm (L)

Fan
¦Õ430mm¡Á350mm(H), AC200V/200W

Boiler exhaust duct connection
¦Õ230mm.

Warm air outlet
Connect the 630mm-width (folded) conduit at both sides

Weight
¡¡105kg
Including 45 kg casing, 45kg heat exchanger and 15kg fan.
Weight is subject to change after machine modification.
Reference
Model 600 boiler: 150,000kcal/h[174kw] heat capacity.
20,000 to 30,000kcal/h heat is lost in the exhaust air.
Temperature of boiler exhaust air: approx. 250 to 400¡æ
With oil-saving fan heater, exhaust air temperature can be reduced by 150 to 200¡æ.
If heat energy lost in the exhaust air can be reused, heat capacity rises. Temperature in the vinyl houser rises quickly in the short term, leading to quantity reduction of heavy oil.
If vinyl shelter is large and heat capacity is insufficient, oil-saving fan heater can increase the heat capacity and produce uniform inside temperature.

Recovery heat=increase heat capacity average recovery rate 70%.

| lost heat | recovered heat |
| --- | --- |
| 15,000kcal | 10,500kcal |
| 20,000kcal | 14,000kcal |
| 25,000kcal | 17,500kcal |
| 30,000kcal | 21,000kcal |
As SI defined, heat unit shall be in KW. Considering the original heat unit, here adopt the unit in kcal/h.
| Plate Heat Exchanger | Tube Heat Exchanger | Shell-and-tube Heat Exchanger
| Glass-tube Heat Exchanger | Finned-tube Heat Exchanger | Bare-tube Heat Exchange
| Dust Removing Device | Hot Air Generator | Radiation Heat Exchanger
| Classified List | Application Scope|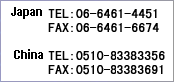 Contact Information